Much planing was put into creating my home based gaming table. Today wargamers are spoiled with many options on the market, you can buy plastic modular tables, preprinted mats and even resin tiles. There is a viable option for almost everyone depending on how much you are willing to pay. I covered my top fav companies on the market on the previous post and there are plenty of tempting stuff there under my budget of £100.
So all this planing and thinking got me back to my roots, I mean when I started aeons ago if you wanted a table you pretty much would build one from scratch. Thing is today I do not have the time for such project so I rather buy one. Humm a decision needed to be made and guess what, I looked at all those nice companies and products on the market and in a very typical fashion I scrapped it all.
Lets go for NON wargaming companies and products and hunt some freaky things on the net ( back then we did not had the net and just wandered the local stores looking for things that we could adapt for wargaming). I started looking for fabrics and you can buy them for cheap, but it will look cheap too and not very sturdy, then I looked at floor tiles, wallpapers and not happy with the volume sales... got into cork boards and sheets but to much hassle to sort them all out for a full wargaming table.
Then by a stroke of luck I looked for artificial grass... Holly molly! The market has tons of options it really looks like some people are into having artificial grass on their gardens or balconies! Good! It looks like grass, its cheap and comes in a rolled matt. Jackpot!
I have a big dinning table so with this artificial grass matt on top Im totally sorted. Mind there are lots of different sizes, colours, textures to choose from, I went for the one that looks more sturdy and comfortable to play on also them wise Im going for classic grass table that can be transformed into jungles, woods, european country site, scifi verdant world etc.
This is what I got.
Beneath it there are some plastic bubbles to keep it more stable on the floor, for me it will be good to make it less slippery on the table. Its also waterproof and very durable when you actually walk on it so pretty safe for my little troops.
As far as texture goes its really comfortable to the touch and the colour is deep medium dark green.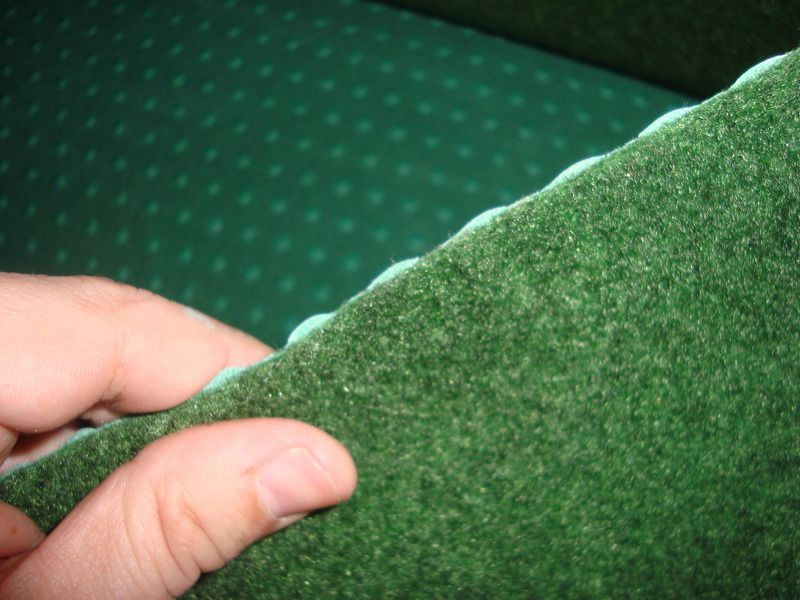 The table is ready!
Even the rotting space marine approves the grass.
So thats about it I went for something a bit different that totally suits and satisfies my needs.
Budget wise I have spent the ridiculous amount of £13 total with shipping included in that! Yeah you read it right it was dirty cheap! Happy gaming folks!