Aliens movies are a major reference for me and my hobby, I always find something to inspire my Sci Fi settings and miniatures in those movies and THE master H. R. Giger works always guide my imaginary into a world of delight.
Going back to when Kane got a facehugger kiss on the first Aliens movie it was one of the most memorable moments for me, so I tried to make this diorama a couple minutes prior to the facehugger attack when they discover the Aliens eggs.
The miniature is from Ground Zero Games and its 15mm, so its my first try on making dioramas in these small scales... I also took the chance to try to paint something a bit different with some drastic lightning effects hoping to catch the darkish feeling of the movie and that tense scene.
Diorama scale picture next to a 28mm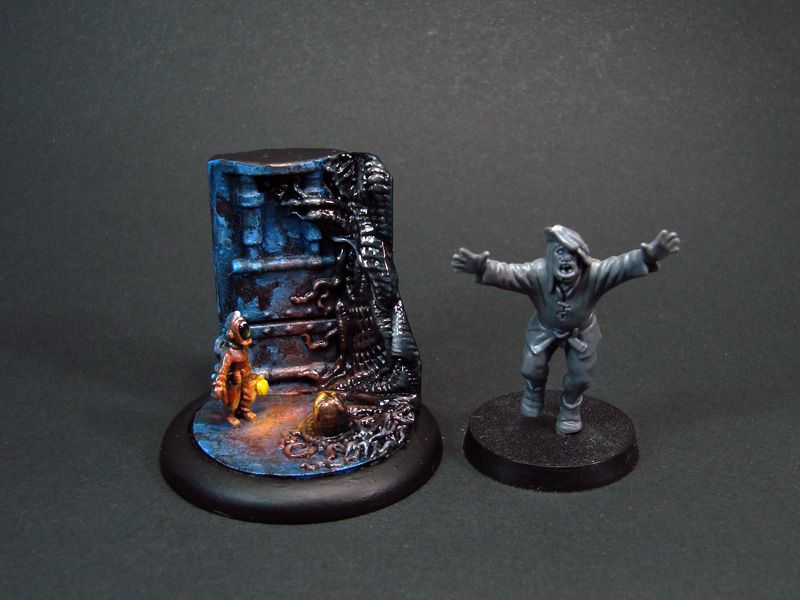 I really enjoyed working on one of my favorite themes and in 15mm, the biggest drawback for me when doing dioramas in 28mm's is that they really take a lot of space in storing and after you do 2 or 3 you start to be a bit stressed about the room in your display... in 15mm there's no such problems as such I now want to create LOTS of little 15mm dioramas :)
For now I hope Frothers community enjoys this one.