For the past year I have been sculpting bases for Secret Weapon Miniatures and these are the new ones that I just finished and that I will ship to Justin this week since he approved them.
The theme this time was 100% Alien bases and before these I have done 2 sets that are already for sale at Secret weapon Online store... later this month I will post them also here on my blog under flashback projects and things I have developed before I opened the blog.
With a theme so fun like this I had a blast filling these bases with crazy alien / gigerish things and never forgetting these bases should be flat so that people have zero hassle when basing their miniatures, so even if super detailed these bases are mostly flat or have big flat areas.
Hope you like them.
10x 25mm bases
5x 40mm bases
2x 60mm bases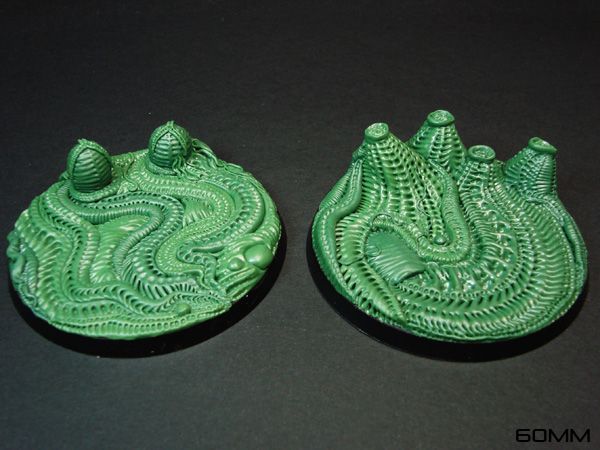 1x Big Oval 120x90mm base
And the base set group picture
The one I enjoyed sculpting the most was the big oval since it looks like a huge swirl of deadly tentacled chitin and with a big queen alien egg, hope to paint some for my collections as soon as Justin casts some.
If you don't know Secret weapon site here's the link
You can also follow their official Blog on the my blog list menu.
If you liked my previous alien bases and these you will be glad to know that more alien things are planned for me to sculpt for Secret Weapon Miniatures.