Finished and ready to transport my two ranger platoons here are a couple APC's that I just painted.
As usual I leave you a painting guide and color formulas so that you can try out a similar paint job if you want to.
The selection of a color scheme for the APC's was balanced between realistic weathering and also eye candy color contrast... Looking at real life APC's camo's and colors everything is very darkish most of the times and probably a bit boring to paint on 15mm.
Someone once said to me that painting 15mm is very different from other scales because in this smallish scale the contrast is everything and should be exaggerated in order to make a interesting miniature on the table... With that in mind I chosen a strong contrast by creating a colorful camo and then toned down the color saturations with heavy weathering... The idea was to create a balance between cool looking and realism.
Old Crow Miniatures APC's models are quite easy to assemble, a bit of glue here and there or filling a micro bubble beneath the chassis was quite fast to do.
I had to choose between basing or not basing my vehicles at this point and even if I prefer non based vehicles I opted to base them because I'm going to travel with these a lot so the base gives the model extra strength and makes it easier to carry around.
For extra detail I added some antennas on the back of both APC's.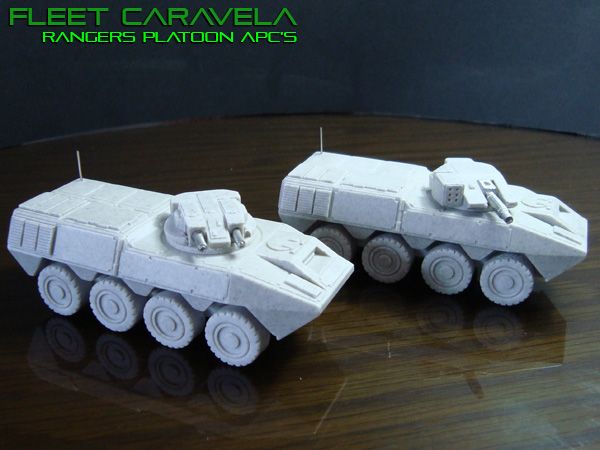 Painting Guide
Games workshop Skull white primer on full based and assembled model
Armor
Vallejo Model Color 70833 German cam. bright green ( several thin layers to built color)
Citadel Wash Gryphone Sepia ( on recesses)
Liquid Mask
Tamiya Color spray TS-3 Dark yellow
Remove Mask
Vallejo Model Color 70939 Smoke ( thinned down washes )
Vallejo Game Color 51 Coal black ( speckle painting )
Mig Concrete P026
Mig Black smoke P023
Mig Rubble dust P234
Mig Old rust P230
Tires:
Vallejo game color 51 Coal black
Mig Concrete P026
Lights:
Vallejo Model color 70890 Reflective green
Vallejo Model color 70833 German cam. bright green
Vallejo Model color 737 Green fluo
Vallejo Model color 938 Ivory
Vallejo Gloss varnish
Base:
Vallejo Model color 881 Yellow green
Vallejo Model color 873 US Field drab
Citadel Wash Gryphone sepia
Citadel Wash Devlan mud
Mig Concrete P026
Mig Rubble dust P234
Army Painter battlefields Swamp tuft 6mm
Final Thoughts
It was a fun little project and happy with the result, I think its interesting to look at and with lots of tiny details... I think I managed to find a good balance between 15mm contrasting colors and a a bit of the unsaturated weathering common on real life vehicles.
Above all was enjoyable and easy to paint... Loving 15mm!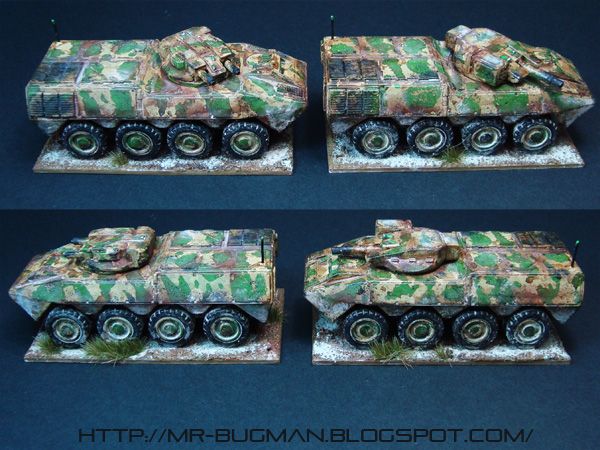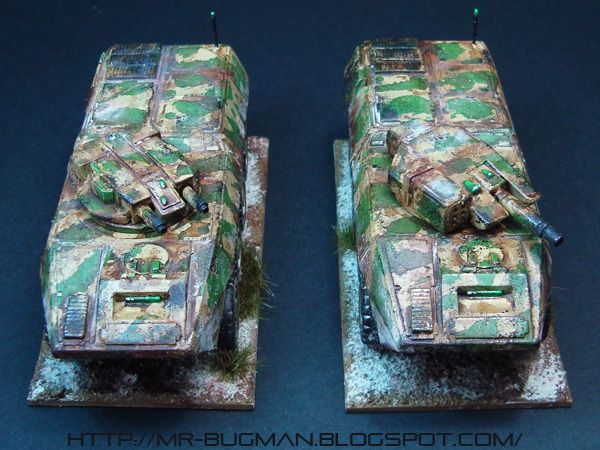 Now I need to paint up the two ranger Platoons that will go on these APC's... going to be fun.