After much thinking I finally painted the Chewk like some kind of prawn man and here are the results. I opted for saturated colors since I believe they work best for such smallish scales, making good contrasts.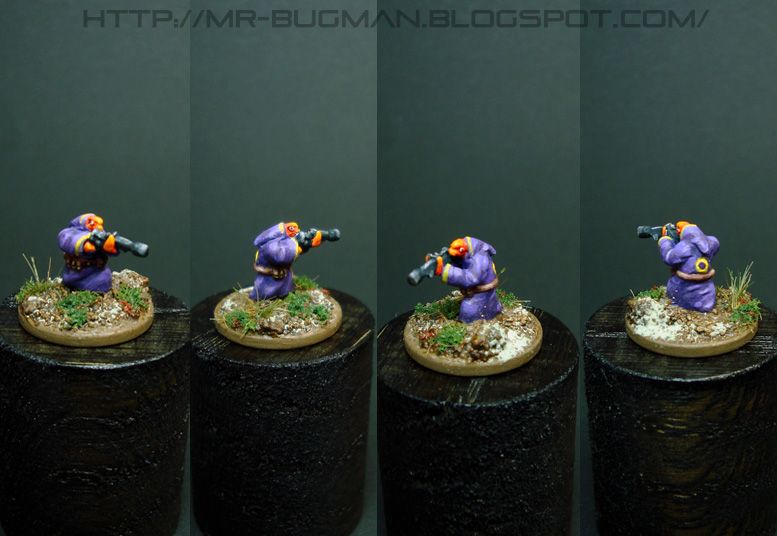 Never painted a 10mm before and its hilarious to be honest, specially if you paint it like a normal 28mm.
Scale picture ( GZG 15mm, Khurasan Chewk 10mm and GW heroic 28mm)
Chewk Color Guide
Games Workshop white primer.
Clothes
VMC 70960 Violet
VMC 70810 Royal Purple
VMC 70811 Blue Violet
50% VMC 70811 Blue Violet + 50% VGC 34 Bone White
VGC 34 Bone White
CItadel Wash Leviathan Purple
VMC 70915 Deep Yellow ( stripes on sleeves and freehand on back)
Belt
VMC 70940 Saddle Brown
50% VMC 70940 Saddle Brown + 50% VGC 34 Bone White
VGC 34 Bone White
Citadel Wash Devlan Mud
Skin
VMC 70956 Clear Orange
VMC 70851 Bright Orange
VMC 70911 Light Orange
50% VMC 70911 Light Orange + 50% VMC 70915 Deep Yellow
VMC 70915 Deep Yellow
VMC 918 Ivory ( eyes )
Formula P3 Coal Black ( eyes)
Weapon

Formula P3 Coal Black

VMC 70903 Intermediate Blue

VMC 990 Light Grey
Base
VMC 873 US Field Drab
VMC 70939 Smoke (wash)
VMC 873 US Field Drab
MIG P234 Rubble Dust
MIG P026 Concrete
Army Painter Battle Fields Swamp Tuft 6mm
GF9 GFS017 Meadow Blend
VMC- Vallejo Model Color , VGC- Vallejo game color
So thats about it, these are the colors for the little 10mm prawns the Chewk and I have something like 25 of them to paint. :)