Salute is always a pleasure to attend to! I manage to talk with loads of friends, meet new wargamers, collectors, painters, sculptors, potential clients and generally good people.
Every year I do this report and elect the best moments for me but this year I will only elect the best stand or brand that walked the extra mile to spread the hobby.
Regardless of theme or personal preferences if a company manages to convince me that what they have is exciting to get into and I will enjoy my hobby time with them, then I take my hat off. I'm a seasoned old fart and it takes a lot for me to get out of my way miniatures wise. But when I opened Salute's goodie bag, even before entering the expo, and found an amazing miniature with some state of the art plastic sprues I was curious about them.
While checking their stand it was something quite different, there was lots of thought gone into it since it was a closed stand surrounded with art but still you managed to go inside it with little hassle. There you would find yourself immersed into a strange universe and it did grab you. The miniatures inside glass displays were professional painted and the sculpts themselves are superb. They explained me the universe by pointing to the artwork on the walls and presented me with a hardback 300 full colour page rule book. On the way out you could play some demos too.
So let me get this out of the way, I don't like cowboys fantasy games, its not my thing. Let me rephrase it was not my thing because I'm not sure anymore. I was convinced and exited about something I never thought I would be. They offered me a legendary character a rulebook and a hell of a experience at salute…. and this is why I love the hobby and Salute.
Best of Salute 2017 was Wild West Exodus.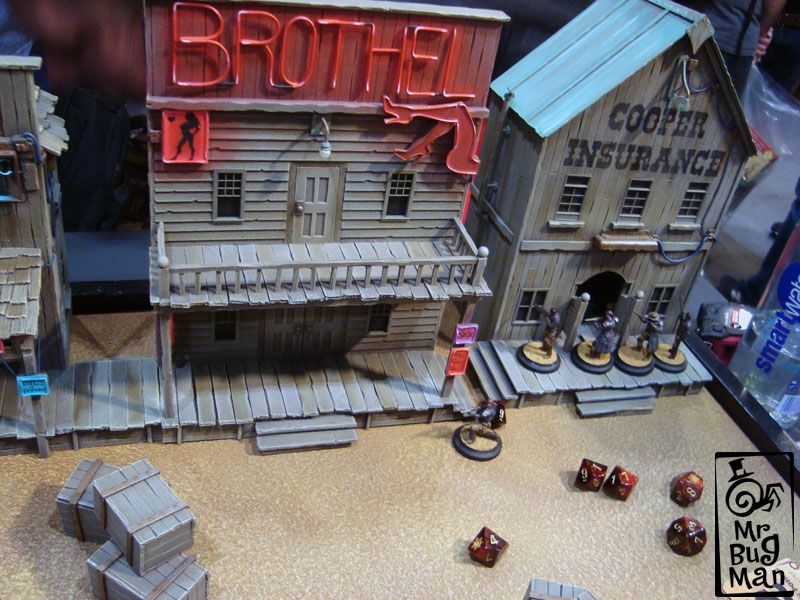 On to Salute 2018.